5th/6th Grade Quiz Bowl Compete in Online Quiz Bowl
by Brandy Edgren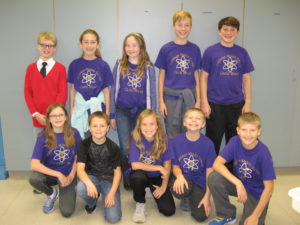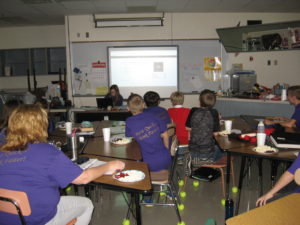 Holdrege Middle School has two quiz bowl teams both coached by Mrs. Edgren.  The 5th-6th grade team consists of Claire Hudson, Alizabeth McDermott, Kegan Steinke, Michael Golus, Derrek Marquardt, Carson Sundquist, Mitchell May, Matthew King, Landon Hartzog and Kylie Burken.  The 7-8 grade team is Justin Golus, Katie Jewett, Charli Wells, Quinton Rapstine, Alix Russell, Chloe Jones, Blake Harvey, Zane Veal, Daylen Scheele, Karley Hudson, McKaden Smith, Quentin Boulware, Zac Sundquist, and  Jacob Derickson.
Both teams meet for practice at at 7:30 am Monday through Thursday each week.  Students are asked to attend at least 2 practices a week, but many are very faithful and come every morning.
The month of November is pretty busy for quiz bowl.  Each of the teams will participate in an online quiz bowl that involved numerous teams from across the Midwest.  Then our home meet is on Nov. 14 at the Tassel.  We have 11 visiting teams for the 7-8 grade level, and 10 teams for the 5-6 grade level.  Both teams will travel to Cambridge to compete on Nov. 26, and the 7-8 grade team will compete in Franklin on the 29th.
Quiz bowl is a lot of fun, and can be very intense.  Questions are asked by a moderator, and the first to buzz in with the correct answer is awarded 5 points.  Then the team has a chance to get a bonus question that they can discuss as a team that is worth 10 pts.  There are 12 questions, and a possible 12 bonus questions each round.  Please come and watch if you ever have a chance.  Our kids are very impressive!