HHS Choir Members Sing with Harlem Gospel Choir
Members of the Concert Choir and Mixed Chorus at Holdrege High School were given a rare opportunity on Friday, April 13.  Through the cooperative efforts of the Tassel Coordinating Council and the Vocal Music Department at HHS, students in both choral groups were offered the chance to attend a 60 minute workshop with members of the world famous Harlem Gospel Choir prior to their performance at the Tassel on the evening of Friday, April 13.  The Harlem Gospel Choir has performed alongside superstars such as Bono, Diana Ross, The Gorillaz, Pharrell Williams and most recently at the 2018 Grammy Award Show with Sam Smith.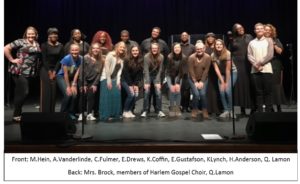 The group performs contemporary gospel with a touch of jazz and blues, using powerful vocals to create a sound with tremedous energy.  From 4:00-5:00pm on the 13th, they worked with HHS students on some of the techniques and perspectives on gospel and jazz music. To cap off the experience, the students who could make it to the workshop were invited to perform a few songs on stage with the professionals at their show.  Sophomore Cassie Fulmer participated in the clinic and the show.  She said she enjoyed learning about how the singers take care of their health to stay in top vocal shape, and mentioned that the group was "very encouraging to us" while on stage.  Alexis Vanderlinde (9th gr) said "It was really fun."  When asked if she'd like to do something like this again, she replied "Oh yeah!  They taught us a lot."
It's a privilege for our students in Holdrege to have a facility like The Tassel for our use.  An added bonus is the chance to not only listen to outstadning professional musicians, such as the Harlem Gospel Choir, but to occasionally "rub shoulders" with people who have such vast experience in the world of performing arts.  Thanks to the Tassel Coordinating Council and Executive Director Pat Underwood for allowing some Dusters the chance to have this experience.