HHS Drama Department Presents – The Legend of Sleepy Hollow
The classic short story by Washington Irving will come to life on The Tassel stage during November as presented by the Holdrege High School one act play cast and crew.  Playwright Clay Presley has adapted the story for the stage and has added a few other characters like witches who are just trying to blend in and a couple of pick pockets as well as a little humor here and there.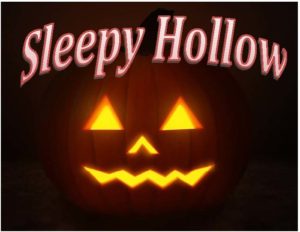 Ichabod Crane has arrived in Sleepy Hollow to be the new schoolmaster.  After meeting Katrina Van Tassel, he decides she's the woman for him–along with her father's 450 acres.  Unfortunately for Crane, Brom Bones has already claimed Katrina for himself.  And this is where the Headless Horseman comes into play…
Over 60 students between the cast, technical crew and stage crew are involved in putting this productions together.
Show Dates:  
November 14

Holdrege Play Production Festival @ The Tassel (Holdrege performs at 9:30)

November 20 Public Performance @ The Tassel 7:30 (admission fee)

November 21 Central Conference Competition in Grand Island

November 30 District Competition @ The Tassel (admission fee)