Holdrege Inducts New Members into National Honor Society
On December 5, Holdrege High School held its annual National Honor Society Induction Ceremony. Membership in the National Honor Society is one of the highest honors that can be awarded to a high school student. There are chapters in more than 15,000 high schools across the nation. This year at HHS, there were a total of 37 students from the junior and senior classes who were eligible to apply for membership into the National Honor Society. Of those 37 students eligible, 34 applied for membership, and 20 were selected. While not everyone is accepted for membership, we congratulate all of the applicants for their fine achievements.
To be eligible for membership in the Holdrege Chapter of the National Honor Society, a student must have a 3.5 cumulative grade point average. In addition to this academic achievement, service and leadership in the school and community activities are required. No student is inducted simply because of a high academic average. Applicants are rated by the faculty and administration in the categories of leadership, character, and service. Finally, the faculty council, appointed by the administration, reviews all of the ratings and votes on all of the applicants.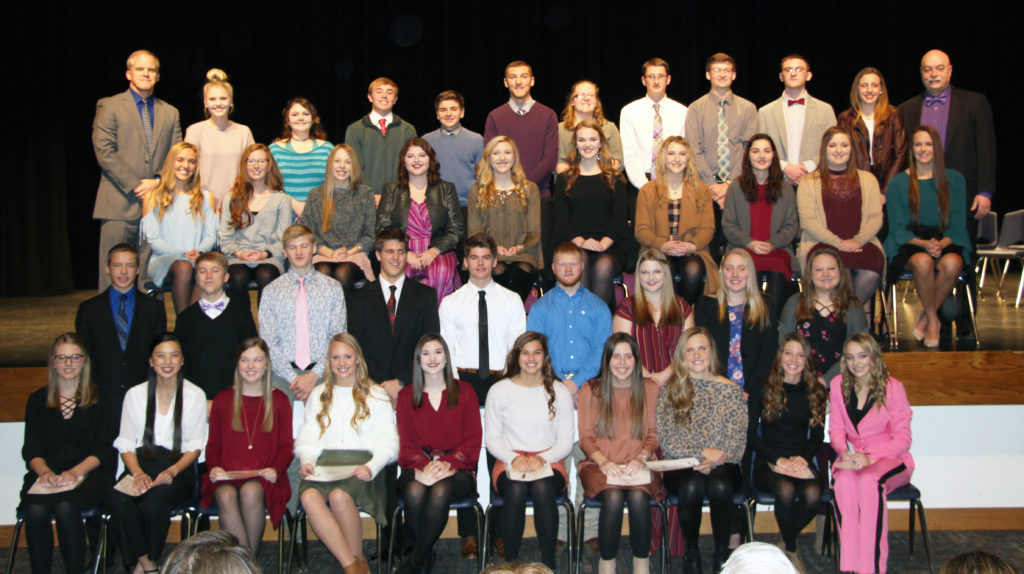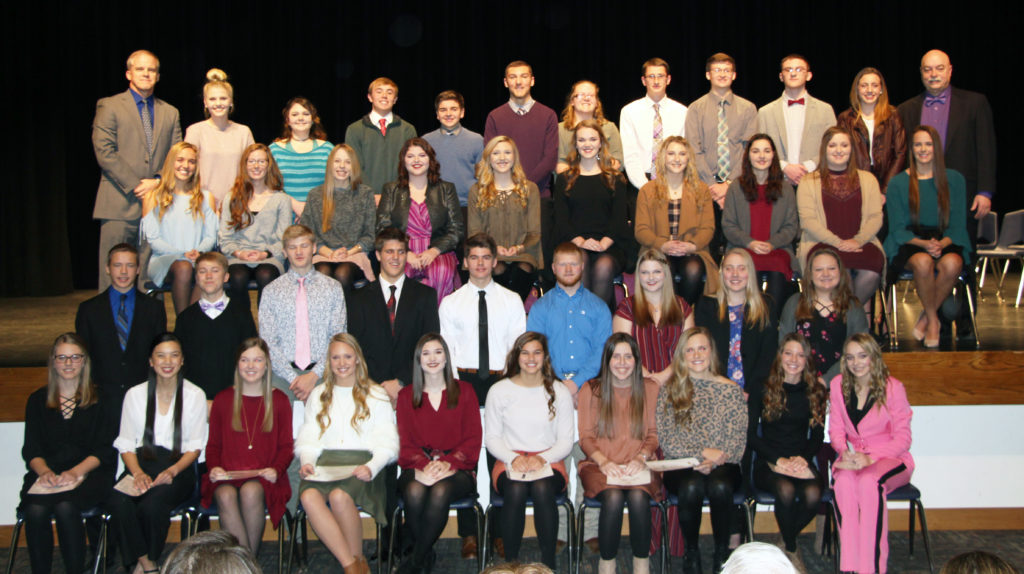 HHS National Honor Society Members (New members are in the two front rows): Front Row: Hadley Milks, Emily Gustafson, Megan Urbom, Kloey Kirwan, Natalie Reed, Ryan Melroy, Jill Gillespie, Kenzie Hurlbert, Carly Janssen. Second Row: Carter Newth, Ethan Twohig, Dylan Bauman, Zachary Reed, Jackson Hilyard, Carson Fritson, Kamryn Lynch, Reagan Boyken, Madelyn Moore.Third Row: Sydney Reed, Keara Miller, Jenna Karn, Jenna Schroeder, Alexa Berney, Antonia Clayton, Amanda Envick, Elizabeth Drews, Lindsay Veal, Addison Johnson. Fourth Row: Sponsor Mr.  Buck, Alivia Nelson, Hannah Hofaker, Matthew Anderson, Spencer Knuth, Aaron Drews, Jessica Pearson, Kaden Erickson, Nathan Birtell, Ryan Salisbury, Cassidy Newth, Sponsor Mr. Brestel.