Mr. Brestel to Present at Space Exploration Educators Conference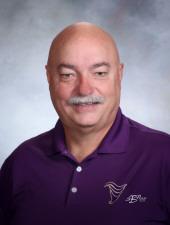 Mr. Tom Brestel, Physics and Chemistry teacher at Holdrege High School, is currently attending and speaking at the Space Exploration Educators Conference at Space Center Houston, in Houston, TX. Mr. Brestel will be presenting "Grappling with a Robotic Arm" and "The Physics of Light Using Light Emitting Diodes" on February 8th and 9th.
According to the conference website:
This conference is for grades kindergarten to 12th – and not just for science teachers! Space Center Houston strives to use space to teach across the curriculum. The activities presented can be used for science, language arts, mathematics, history, and more.
Attend sessions hosted by the actual scientists and engineers working on exciting endeavors like the International Space Station and explorations of Mars and the planets beyond. Hear from the astronauts leading the charge in exploration! Come learn about the bold vision to send humans back to the Moon and off to Mars! Attend sessions presented by educators and receive ready to implement classroom ideas and experience minds-on, hands-on fun. Network with fellow educators, take back a multitude of cross-curriculum ideas and activities and earn 24 hours of continuing professional education credit.