HPS Beef in Schools Program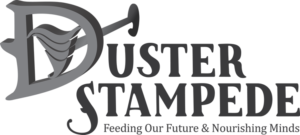 The HPS Beef in Schools Program began to take shape last spring after a group of local producers and school district representatives attended the Nebraska Beef in Schools Summit in Hebron during February. A meeting was held in Holdrege with presentations by the Nebraska Cattlemen's Association, the Nebraska Beef Council, and Lunchtime Solutions, Inc., the district's food service provider. The HPS Beef Committee organized and set a goal to implement a program to provide nutritious and high quality locally raised donated beef to the HPS school lunch program through the support of local producers, businesses, and the community. The Duster Stampede was on! And donated beef was incorporated in school menus for all HPS students at the beginning of the 2017-18 school year.
"Today we honor and recognize the producers, businesses, and community members who have donated beef or monetary support for the HPS Beef in Schools Program thus far," remarked Superintendent Todd Hilyard. "Thanks to their support, our students are enjoying high quality, tasty, locally raised beef, and we anticipate that our goal of meeting 100% of our needs for the 2017-18 school year will be fulfilled. We look forward to continued development of the program with opportunities to promote sustenance of the beef industry through donor recognition and educational activities for our students."
Beef donors included 37 Cattle Company; McClymont Feedyard; Brent Soneson; Whiskey Creek Cattle Co., LLC; Swanson Cattle Co.; Brian Rust; South Platte Crop Consulting, LLC; Mike & Kerry Waller; and Shaun & Lisa Jensen. Monetary donors included Bruning State Bank, Phelps Memorial Health Center, and Dewald Deaver PC, LLO.
The HPS Beef Committee invites you to join in feeding our future and nourishing minds. Committee members include: Brad Johnson – BRJ Farms; Brian Johnson – Bunker Hill Farms; Dan Killough – Killough Farms; Jesse Landin – McClymont Feedyard; Jeanette Lindstrom – Prospect Hill Farms; Kendra Schmidt – Holdrege Irrigation; Tim Schmidt – Holdrege Irrigation; Brent Soneson; Jeff Swanson – Swanson Cattle Co.; Michael Waller – HPS School Board; Richard & Sue Waller – 37 Cattle Company; Nick Wells – Wells Outdoor Properties; and Morgan Wohlgemuth – Whiskey Creek Farms.
If you are interested in supporting the Duster Stampede by donating a beef animal or assisting in program costs with a monetary donation, contact the HPS Central Office at (308) 995-8663 or Richard Waller at (308) 995-4737 or 37cattle@atcjet.net.