Live on Striv!
T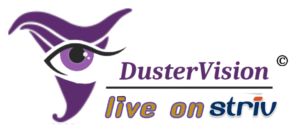 hanks to a grant from the Phelps County Community Foundation's Roy W. & Mary L. Pearson Charitable Fund, we were able to purchase the equipment we need to have students broadcast games on Striv.tv.  We are going to be streaming varsity Football, Volleyball, Basketball, and Wrestling on our new Striv channel: striv.tv/channel/holdrege.  
Striv (pronounced strive) offers students the opportunity to gain skills in broadcasting live events.  We have already had student involvement by having a DusterVision logo contest.  Thanks to Mr. Stevens, Mrs. Edgren, and Mrs. Wiese, the entries were narrowed down to four and then all 9-12 students had the opportunity to vote for  their favorite.  Parker Ellis was the winner and received a Duster blanket as a prize. Parker Hamling came in 2nd.
We look forward to bringing you student led broadcasts as this is an educational opportunity that cannot be duplicated in the classroom.  Students will be running the scoreboard app on Striv so it may not always be exact, but they will get better with more experience.  So far, Josh Reed and Chandler Whetstine have signed up to broadcast games.  We do need more students to broadcast volleyball and basketball games, so if you are interested, please email Mr. James Reed at james.reed@dusters.org.
If you are having issues with the live stream, please refer to the Striv Viewer Information link to help troubleshoot any issues you may experience.